Singh Is Bliing (2015) | Akshay Kumar, Amy Jackson, Lara Dutta | Full Hindi Movie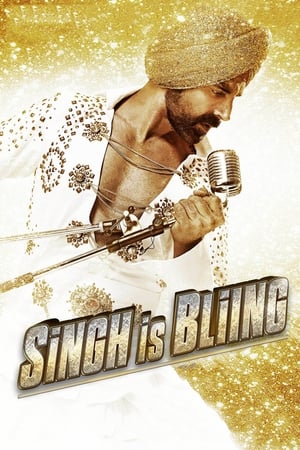 Singh Is Bliing
सिंह इज़ ब्लिंग
Overview
Raftaar Singh is always looking to have fun and runs away from responsibility. Fed up, his father orders Raftaar to go to Goa and work, and learn to take on responsibility. Once in Goa, he impresses his new boss with his enthusiasm and creative thinking. Soon he gets an assignment, and meets Sara Amy Jackson - and thus begins their unique love story. What ensues is a great comedy of errors, as one hilarious situation after another unfolds. Raftaar falls head over heels for this exotic, mysterious girl. The romance takes a deadly turn when he realizes that Sara is not who he thinks she is and has an agenda, which takes him to Romania. Will Raftaar be able to win her over in a distant and dangerous land?
Cast

Akshay Kumar

Amy Jackson

Rati Agnihotri

Lara Dutta

Kay Kay Menon

Sunny Leone

Anil Mange
Crew

Prabhu Deva

Prabhu Deva

Shaan Mukherjee
सिंह इज़ ब्लिंग प्रभु देवा द्वारा निर्देशित एक आगामी बॉलीवुड एक्शन कॉमेडी फ़िल्म है। फ़िल्म में अक्षय कुमार, बिपाशा बसु, यो यो हनी सिंह, लारा दत्ता, एमी जैक्सन और अर्फी लाम्बा प्रमुख भूमिका निभायेंगे।
Singh Is Bliing is a 2015 Indian Hindi-language action comedy film directed by Prabhu Deva. This is a remake of the Korean film named My Wife Is a Gangster 3. The film features Akshay Kumar, Amy Jackson, Lara Dutta and Kay Kay Menon in leading roles.
Raftaar Singh (Akshay Kumar) is a nice and fun-loving but uneducated man, with a mischievous and humorous character. He is thrown out of his home by his father who gives him an ultimatum: if he wants to come back, he must get into business with Kirpal Singh in Goa or marry a fat woman called Sweety. Raftaar chooses the former. Meanwhile, Sara Rana (Amy Jackson) is shown living in Romania with her father, who made bad choices and works for the mafia. Mark, a mafia boss, wants to marry Sara but is rejected by Sara and her father, and shoots Mr Rana in anger. Sara manages to escape to Goa where she hopes to find her estranged mother.
Raftaar meets Kirpal Singh and lies about speaking English in order to get a job taking care of Sara while she is in India. Raftaar and his friends meet Sara at the airport; finding that Sara does not understand Hindi, Raftaar hires a translator, Emily (Lara Dutta). Sara meets Kirpal and feels safe but presumes Raftaar to be a bad guy. Sara's opinion changes when she sees Raftaar helping a woman who was bothered by a bunch of goons. When these goons later come after Raftaar, they are beaten-up by Sara. Emily is shocked to see that Sara can fight, but Sara warns Emily not to reveal about the incident to Raftaar.
Raftaar's friends and Sara become kidnapped by the same goons; Raftaar tries to save them but gets badly beaten. Sara later fights all the goons away and begins to fall for Raftaar. Kirpal feels happy with Raftaar's performance and soon becomes a successful businessman with his help. Mark learns that Sara is in Goa and sends his men to bring her back. Raftaar and Sara try to flee but their car is hit and Raftaar is beaten-up. He later fights them all except for a woman who is beaten-up by Sara. On Kirpal's advice, Raftaar takes Sara to his family home in Punjab.
Sara meets Raftaar's parents, and seeing Raftaar with them she reminisces of her childhood and cheers-up. Raftaar's father asks Sara about her relationship with Raftaar, and she reveals that she is in love with him. Earlier, Emily had handed responsibility to Raftaar to find Sara's lost mother, and they return to Goa where Sara sees her mother with a child, thinking her mother had a second marriage and is happily living her life. Sara decides to go back to Romania, saying she would never return. Raftaar feels heartbroken seeing her leave.
In Romania, Sara finds her father recovering in hospital. Raftaar finds Sara's mother and brings her to Romania, reuniting the family, and Sara confesses her love to Raftaar. Raftaar decides to marry Sara, telling his family and purchasing a cake, flowers and new clothes. He goes to church but is angered when he finds Sara about to marry Mark. Sara refuses to marry Mark, who challenges Raftaar to a fight. Raftaar manages to beat Mark and his men but is shot. Sara is worried that Raftaar may die, but he wakes after remembering the lessons taught by his father and resumes the fight with Mark. Raftaar is able to beat the mafia and Mark, who dies after saying "You're too good, sardaar " (English: 'chieftain' or 'leader'), with Raftaar left hanging by the side of a bridge. Sara and Raftaar confirm their love for each other, and Raftaar is saved and returns to Punjab to celebrate his happiness with his friends, family, and Sara. The film ends with Raftaar and Sara performing a song together.
SYNOPSIS: Raftaar Singh always runs away from responsibilities. Frustrated by his behaviour, his father asks him to either marry Sweety or relocate to Goa and work with his father's friend.
Director: Prabhu Deva
Producer: Akshay Kumar ,Ashvini Yardi , Dr. Jayantilal Gada.
Star Cast: Akshay Kumar, Amy Jackson, Lara Dutta
Written By: Shiraz Ahmed
Music By: Meet Bros Anjjan, Manj Musik, Sajid-Wajid, Sneha Khanwalkar, Sandeep Shirodkar
Cinematography: Dudley
Edited By: Steven Bernard
Production Company: Grazing Goat Pictures Pvt. Ltd
Distributed By:Pen India Limited, Eros International
#SinghIsBliing, #AkshayKumar, #AmyJackson, #PenMovies,
For your favorite Bollywood Movies, Subscribe now:
SUBSCRIBE for the best Bollywood clips, movies and scenes, all in your PEN Multiplex channel
For your favorite Gujarati Movies, Subscribe now:
For Daily Bollywood news & gossips subscribe our channels
BTNews Hindi:
Bollywood Times:
Download our App for latest news & gossips:
Log On To Our Official Website :
Enjoy & stay connected with us!
Like us on Facebook:
Follow us on Twitter:
Follow us on Instagram:
Missing Your Favourite Love Songs?
Just Call your DTM/Cable Operator to activate "iLove" Music TV Channel.
DEN – 462 | SITI CABLE – 138/157 | HATHWAY – 302 | GTPL – 416 | INCABLE – 412 | FASTWAY – 327 | AIRTEL – 502 | TATASKY – 834
singh is king full movie,singh is bling full movie,singh is bling song,singh is bling,Singh Is Bliing,bollywood blockbuster movies,best of akshay kumar,comedy movie,superhit hindi movie,comedy hindi movie,akshay kumar movie,Amy Jackson,Lara Dutta,Prabhudeva dance,hindi movie songs,action hindi movie,action hindi dubbed movies,pen movies,akshay kumar comedy movie,javed jaffrey dance,katrina kaif movie,old hindi movie,kesari,kesari movie Pen Movies